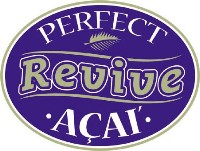 ---
Perfect Acai Revive™
The perfect blend of Acai, Rhodiola Rosea and Cordyceps.
An all natural, caffeine-free formula, to increase energy and endurance and reduce stress*.
---
A healthy alternative to energy drinks!
Revive Your Mind...
Reduce Stress*
Promote Calmness*
Uplift Your Mood*
Boost Memory*
Enhance Cognitive Function*
Revive Your Body...
Increase Energy*
Boosts Endurance and Stamina*
Increase Total Oxygen Capacity*
Promotes Healthy Sleep*
Enhances Your Immune System*
Promotes Healthy Skin*
Improves Sexual Performance*
Revive Your Soul...
Made exclusively with Sustainable, Organic, Freeze Dried Acai.
Your purchase helps efforts to protect the Amazon rainforest and the indigenous people of the Amazon.
*These statements have not been evaluated by the Food and Drug Administration
---
Made with 100% All Natural Ingredients...
Organic Acai and Cordyceps, and wild-harvested Siberian Rhodiola Rosea
100% Pure Organic Acai
Acai is Freeze Dried to retain the full nutrients of the Acai berry
Whole food acai captures the entire nutritional profile of the berry, because it is not an extract.
Incredible antioxidant protection - 10x the Antioxidant power of red grapes
Packs 10 to 30 times the Anthocyanins of red wine
Read all about the Acai Berry in our Acai Research
100% Freeze Dried Siberian Rhodiola Rosea
Minimum 3% Rosavins and 1% Salidrosides
Rhodiola Rosea direct from Dr Ramazanov's company
Wild-crafted from the Siberian Mountains of Russia - the finest quality Rhodiola Rosea
Named the best energy boosters by Alternative Medicine Magazine (10/2004)
Learn all about the health properties of Rhodiola Rosea in our Rhodiola Rosea Research
100% USDA Certified Organic Cordyceps Sinensis
A staple of Traditional Chinese Medicine (TCM) for over 1500 years
Named one of the best energy boosters by Alternative Medicine Magazine (10/2004)
Exclusively made with Aloha Medicinals Cordyceps - the most potent in the world
5 times more potent than Wild Cordyceps
The only Cordyceps Sinensis that is grown in low oxygen, low temperature - just like nature!
100% DNA Certified through Independent testing to be authentic Cordyceps Sinensis
100% Vegetarian - Absolutely no insect residue
Derived directly from Tibetan Strains
Read all about Cordyceps in our Cordyceps Research
---
100% Open Ingredient List...No Proprietary Blends
Daily Dose of 2 servings provides 1,620mg of Cordyceps, 1080mg of Acai, 240mg of Rhodiola Rosea and 240mg of Grape Seed Extract
Super Large 180 Capsule Bottle, 60 servings, will last 1 month (take 2 servings a day)
Daily Dose of 2 servings provides an ORAC of over 4,000!
Rhodiola Rosea and Cordyceps were rated the top 2 energy boosting supplements by Alternative Medicine Magazine
Vegetable Capsules - no gelatin - great for vegetarians
No fillers or flowing agents used
No maltodextrin
No sugar, animal products, yeast, wheat, gluten, artificial coloring or artificial flavoring

Click on Label for Full size image